Purchase
Choose from the products below, select quantity, add to cart.
For TempElert USB, go to this page
WE ACCEPT PURCHASE ORDERS TOO!
We accept purchase orders from qualified organizations such as schools, government agencies, and corporations.
To get setup for a purchase order, please contact us at 530-899-8434 or fax purchase order plus credit references and contact info to 530-899-3333
Terms: Price FOB Chico, CA Delivery of TempElert is typically from stock.
Most orders ship the same day if ordered by 2PM PST. Expedited shipping options are available.
Warranty: All parts and labor for a period of one year from date of purchase, some restrictions apply.
Have sales questions or don't wish to order online? Give us a call toll free!
800-949-8434
The PowerFAIL Detector works with any of the devices or software we sell and is fully retroactively compatible with previous versions.
It is easy to add with about 10 minutes of setup time.
The small (2.25" x 1.5" x 1.25") Power Fail Detector connects to a wall outlet and the Sensatronics temperature monitor.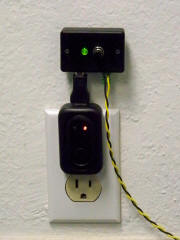 Questions?
Click to read the manual for the Power Failure Detector  (PDF1.48MB)