TempElert will
monitor your
mission critical
server room or
process and
alert you via
email or pager!

NEW!

3/21/20111 TempElert USB Digital Alerting Thermometer/Hygrometer - Will send email, pager, cellphone alerts in temperature, humidity, and dewpoint over/under conditions which you set. Runs in the background on any Windows XP or newer PC or server. Fully configurable, multiple recipients, and offers a free PC shutdown program you can run remotely if you need to shutdown your server room. Useful also for monitoring refrigeration systems, HVAC, greenhouses, wine cellars, or any situation where temperature and humidity out of safe range can cause you problems. Simple 1 minute install, plugs into a spare USB port on your PC and can be extended with optional extension cables. Set and forget with peace of mind knowing you will be alerted if things get too hot, cold, dry, or wet.

ONLY See the details here
New TempElert V2.6 with voice dialer support and many new features released
The latest version of our software features many new upgades and features designed to make your mission critical temperature alerting even more robust and versatile:
NEW FEATURES
THE MOST REQUESTED FEATURE! Support for our Optional Automatic Voice Dialer - TempElert can now make a telephone call and delivery of pre-recorded voice messages to any regular telephone, cell phone, or voice pager. Support for multiple recipient numbers and remote cancel features are included. Purchase our Automatic Voice Dialer at www.tempelert.com This device offers an improved level of alerting by using the telephone to succeed where emails and pager text messages may not.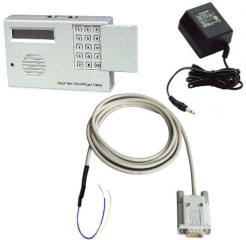 Voice Dialer Add-On Package - calls you anywhere via telephone or pager

Version 2.3 fixes a problem related to using non-standard serial ports with the model F. Now you can use any COM port number, and assign it to the display.. You can also use non standard serial ports like USB to serial port converters. You can use two model F's with TempElert, each supporting two probes.

Support for Cryomonitor TempTrax hardware, for ultra-low temperature monitoring.

New photo realistic thermometer controls on main screen

Support for use of either IP addresses or machine name URL's for the hardware device, this allows assignment of a name to your TempTrax E42.382.316 device using your DNS server to be easier to remember for browser or remote checking...for example our demo device at temptrax.it-techworks.com can be used in place of the IP address.

Server 2003 compatibility - TempElert now functions with Microsoft Server 2003

Support for HTTP ports other than port 80, TempTrax hardware models E4, E8, and E16 can be set to use any port for HTTP requests, this enhances security and keep external views from occurring unless the port number is known.

Support for Kelvin temperature unit displays in addition to C and F

New E-Mail test and Pager test functions - this allows you to test the email and pager emails without waiting for an alert to happen first. It is very useful for troubleshooting email confusion to ensure you have SMTP server settings entered correctly.

Spurious Alarm Filtering (false alarm prevention) for each probe. This allows you to set a "must detect consecutively X number of times" value before alerts are displayed, or sent via email, pager, or voice dialup. This is useful for situation where somebody just opens a door briefly and causes a brief temperature spike, but is not an actual alarm situation yet.
BUG FIXES SINCE 2.14

International Locale setting support - allows for different time2.3date formats
Pager recipient list file error fixed - sending alerts to a list of pager numbers didn't always work
Raw log file excessive growth error fixed
Serial numbers were hard to read, with confusions between Oh's and Zer0es and the numeral 1 and the lowercase letter L, a new serial number schema has been created. New serial numbers are free with proof of purchase or the old serial number. The new serial number scheme is required for version 2.2, old serial numbers will not work. To get your new serial number call us at 530-899-8434

KNOWN ISSUES:

Old serial numbers from 2.14 won't work in 2.2 To get your new serial number call us at 530-899-8434
Setting up Temperature Scale ranges to come out even numbers requires the range to be divisible by nine. Due to the way the scale creates "in between" numbers to display, to keep integers displayed, choose a range that is divisible by 9 for example 130-40 = 90 or 0 to 45 = 5x9 etc... when using combinations that cannot be divided into 9 steps, you will end up with numbers that may not be integers or fall on exact whole number boundaries.
New TempElert V2.12 Alerting and Monitoring Program Released
The latest version of our software features an intuitive graphical interface with industrial style flag annunciators for "at a glance" status checks. Supports Models E4, E8, and E16. An Enterprise license edition is also available.
(more in our full press release)

or...download as an Adobe Acrobat PDF file here
DOWNLOAD A FREE FULLY FUNCTIONAL DEMO OF TEMPELERT

EXISTING OWNERS OF TEMPELERT V2.2 and BEFORE WILL NEED A NEW SERIAL NUMBER TO UPGRADE TO DOWNLOAD THE UPGRADE TO V2.6 PLEASE CALL 530-899-8434 AND HAVE YOUR EXISTING SERIAL NUMBER OR PROOF OF PURCHASE HANDY.

About TempElert
TempElert insures your business investment. By monitoring mission critical server rooms, A2.3C, HVAC, process controls, refrigerated goods, livestock, perishable products, or anything that may be affected by temperature, TempElert lets you know there may be something wrong, anytime, anyplace, and anywhere by using the global TCP2.3IP network, Email, and SMS messaging to ensure notification.